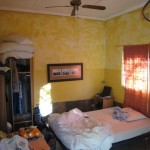 Against all my concerns my stuff and I arrived in Namibia Friday last week. I was positively surprised that I got away without having paid for my excess luggage of 16Kg on the SA flight (there had been an announcement for a Mr. Benjamin Neuhoff in the Terminal in Johannesburg due to some 'luggage issue' – but the SA service desk couldn't figure out what was going on when I asked them).


Namibia. Luckily I didn't had to wait to long for a first taste of the different time concept here: it took four homeland security officers 45 minutes to process around 20 foreign passengers. Thanks to the exotic bike box I almost had the pleasure to go through the 'red door' at the customs. A smile and the forgiving officer saved that day.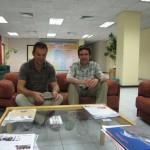 I was told how important good relationships are in the South. I cannot agree more: to have all the paper work done needed for a permanent residency Markus, the Interteam coordinator for Nambia, and I shuttled between public authorities, car dealers, insurance offices & Co. for three days. It all went surprisingly smooth – thanks to relationships and luck of course: at the Ministry of Home Affairs we were able to skip the first and second floor, bumped directly into the hallway of the deputy minister – 20 minutes later the residence permit was done.
Just 24 hours in town I was already able to do some networking last Saturday: I met a couple of guy's working for VSO UK in the Omusati region at David's (VSO UK too) birthday party. Also this week has been quite busy – the other guy's from my organization working in Windhoek don't let me get bored – I am definitely not on my own here:-).